Hello Jack,
I have a Neje 3 max board version 1.1.2.
I would like to know what are the specification of the new fourth12V port as seen in the picture.
I couldn't find any information and it doesn't seem to be documented.
Is it an input or an output ?
What is the maximum intensity (A) or current (strictly 12V?)
If applicable, what is the signal type (pwm/frequency)?
Any example on how it is used?
Thank you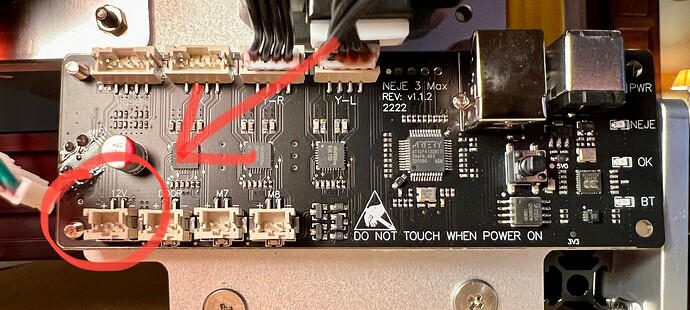 自动翻译。
你好,杰克。
我有一块Neje 3 max板,版本为1.1.2。
我想知道图片中看到的新的第四个12V端口的规格是什么。
我找不到任何信息,而且似乎也没有记录。
它是一个输入还是一个输出?
最大强度(A)或电流(严格来说是12V?)
如果适用,信号类型是什么(pwm/frequency)?
有没有关于如何使用它的例子?
谢谢你